Amangiri
At the top of Utah's elopement list, and possibly every luxury elopement list, is Amangiri. Located in Canyon Point, Utah, but in a world of its own. Amangiri is known for its iconic minimalist architecture as it blends perfectly into the natural world, creating breathtaking backdrops. Lake Powell, Zion National Park, and Bryce Canyon are minutes away from the villas. There are endless photoshoot opportunities in between the slot canyons (like Antelope Canyon), on the white sandstone in the Grand Staircase Escalante region, and all around the grounds of the resort's stunning architecture. There really isn't a way to take an unaesthetic photo at Amangiri.
The accommodations are immaculate. Amangiri boasts luxurious accommodations that are perfect for hosting your wedding guests. The resort features 34 beautifully appointed suites and a five-bedroom Mesa Home, all designed to seamlessly blend with the stunning desert landscape. Each suite offers floor-to-ceiling windows that frame the awe-inspiring vistas, allowing you and your guests to fully immerse yourselves in the surrounding natural beauty.
Amangiri offers an array of amenities that are sure to make your elopement wedding truly exceptional. The resort features a stunning infinity pool that seems to blend seamlessly with the horizon, providing a breathtaking setting for pre-wedding poolside gatherings or post-wedding relaxation. The Aman Spa at Amangiri is a sanctuary of wellness and rejuvenation, offering a range of treatments inspired by ancient Navajo healing traditions. For adventure-seeking couples, Amangiri offers a variety of thrilling outdoor activities, such as hot air ballooning, guided hikes, and horseback riding, allowing you to create unique and unforgettable experiences for you and your guests.
Amangiri is quickly becoming one of the most sought after elopement destinations, so run don't walk!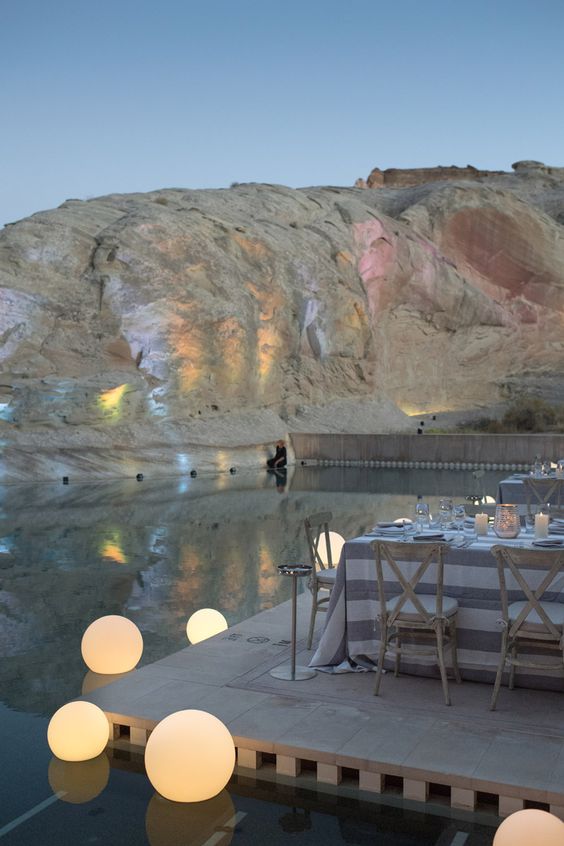 (Photographer Unknown)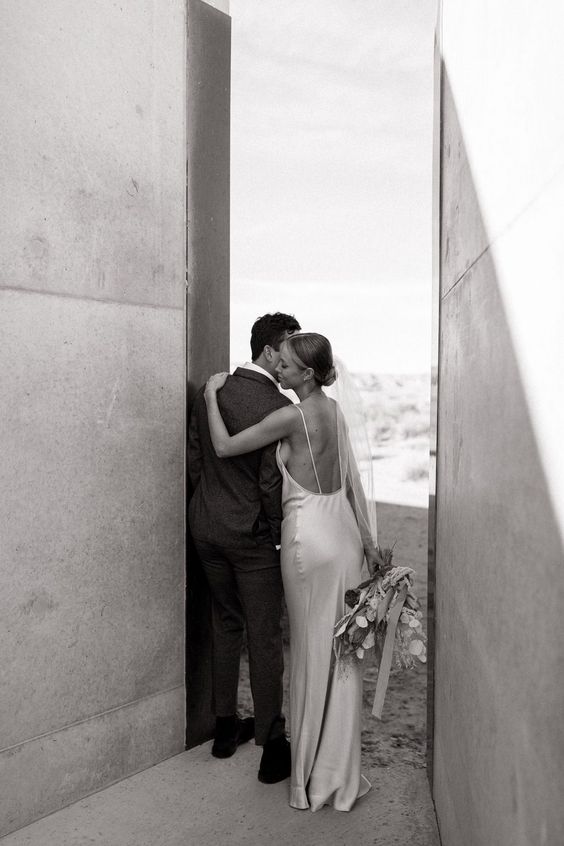 Sydney Noelle Photography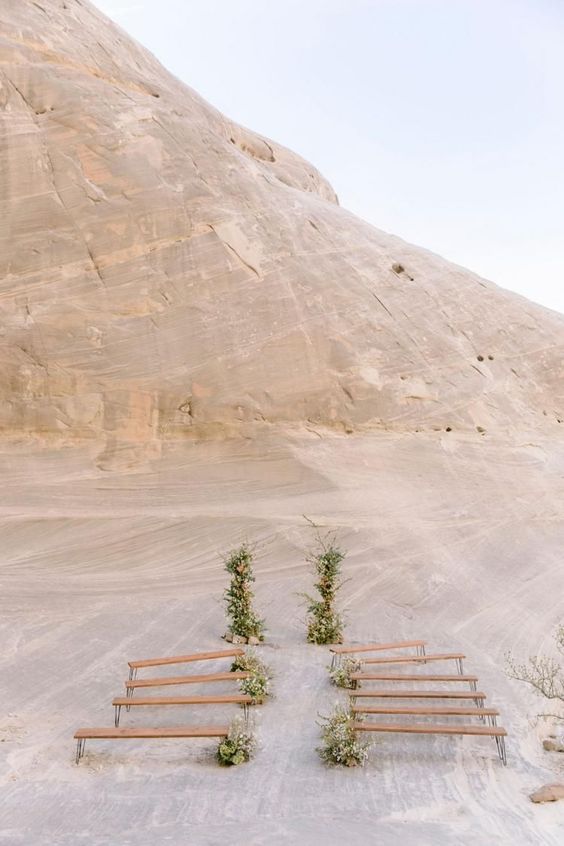 (Photographer Unknown)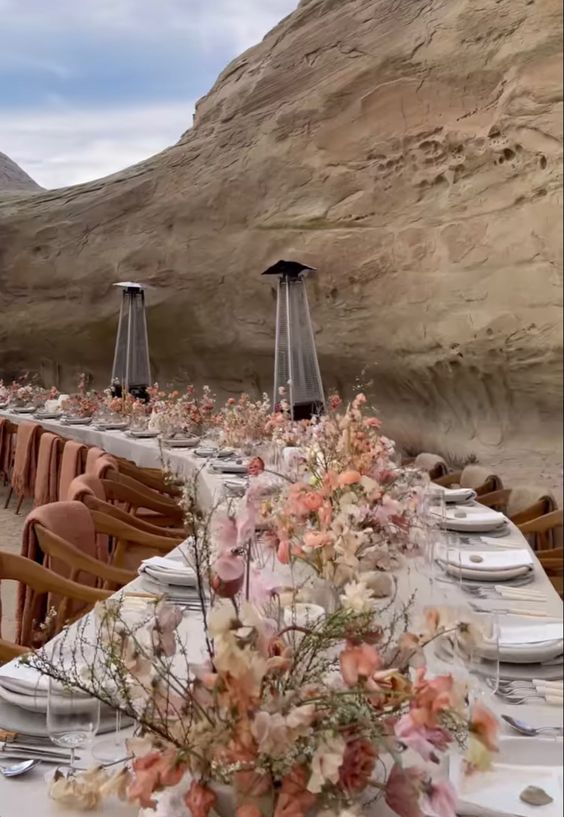 (Photographer Unknown)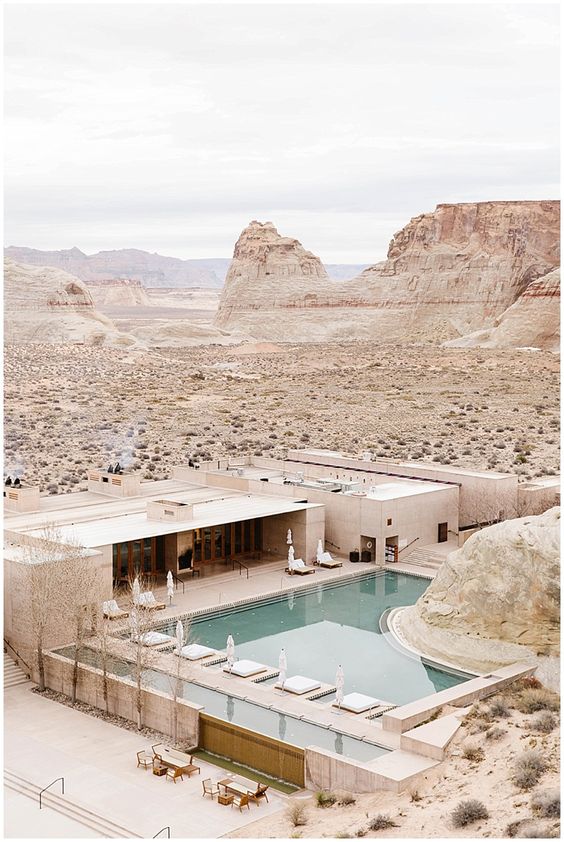 (Photographer Unknown)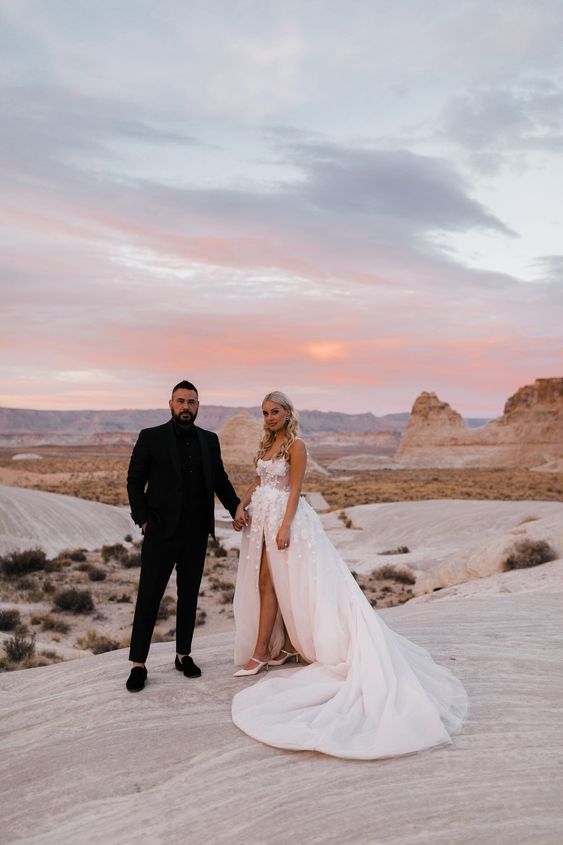 The Hearnes Photography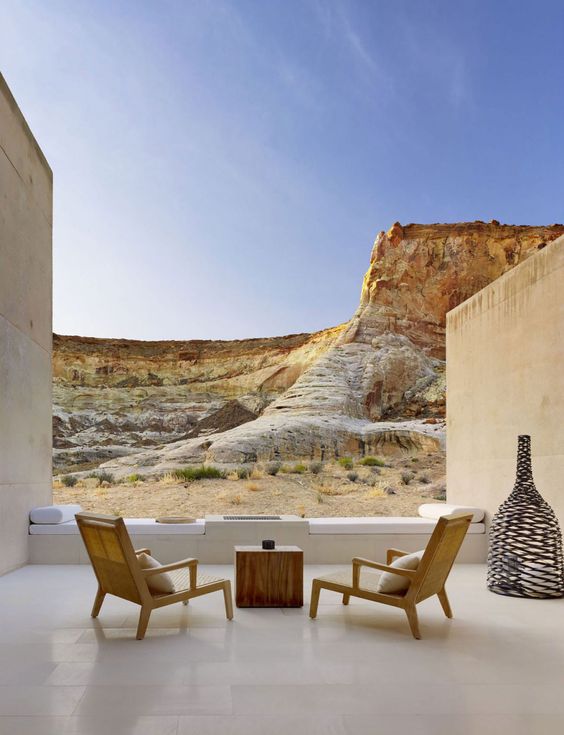 (Photographer Unknown)
2. Moab, Utah
Second on the list is Moab, Utah. It is renowned for its awe-inspiring natural beauty. The red rock wonderland includes Arches National Park, Canyonlands National Park, and Dead Horse Point State Park that are just few of the iconic locations offering stunning vistas for your elopement ceremony. Imagine exchanging vows against the backdrop of Delicate Arch, one of the most famous landmarks in Utah, or saying "I do" as the sun sets over the red rock canyons. The unique and striking landscapes of Moab will create an unforgettable setting for your elopement, resulting in stunning photos that will be cherished for a lifetime.
Under-canvas glamping tents are the perfect place to stay if you choose to elope in Moab. They are the most scenic place to stay in Moab, with unrivaled stargazing. The suites have king size beds, wood burning stoves, organic bath products, outdoor fire pits with complimentary smores, and West Elm furnishings. There is even complimentary yoga and live music at night.
Glamping and elopement go hand in hand so if you're looking for somewhere you can be immersed in the natural world, check out Under-Canvas glamping tents at Moab, Utah.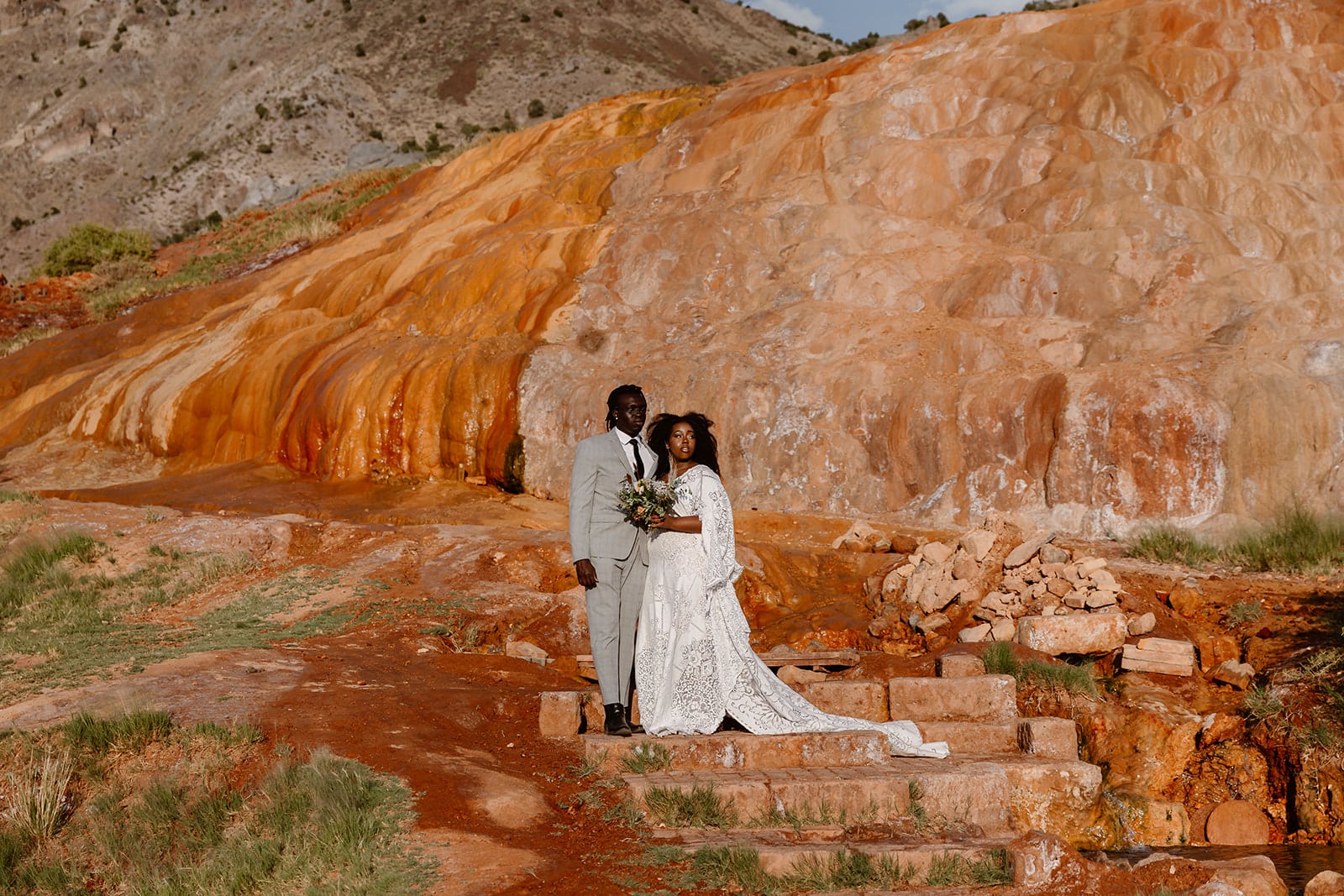 Jacalone Photography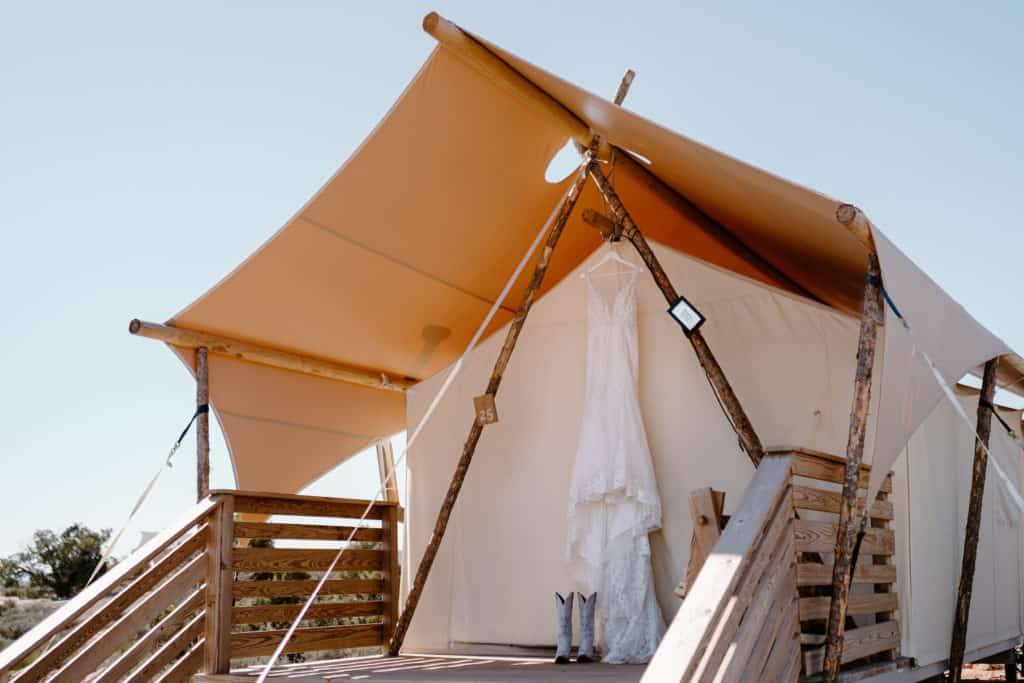 (Photographer Unknown)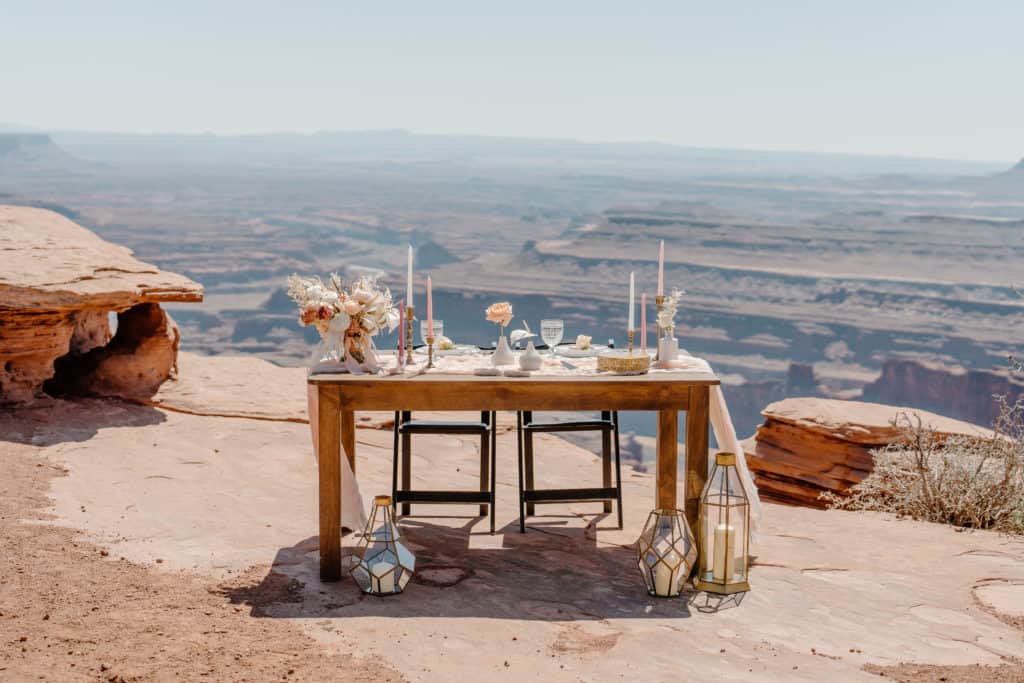 (Photographer Unknown)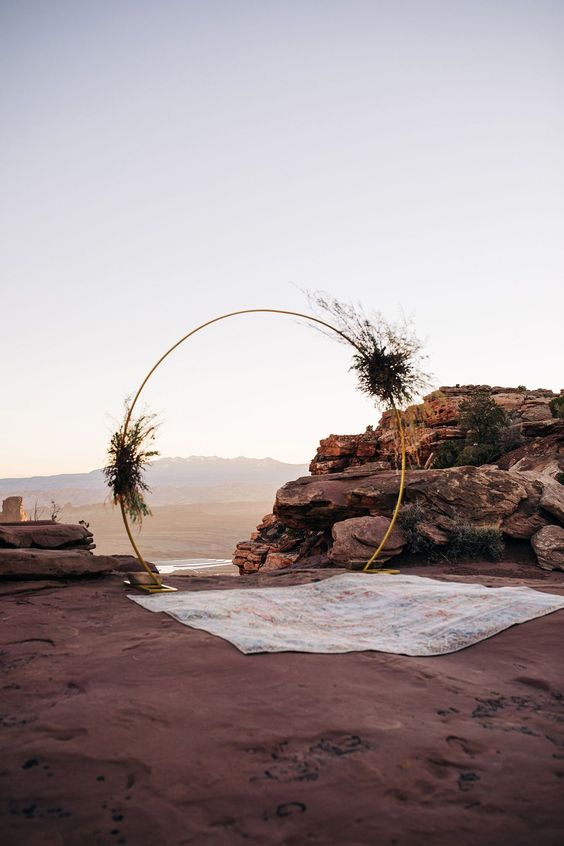 (Photographer Unknown)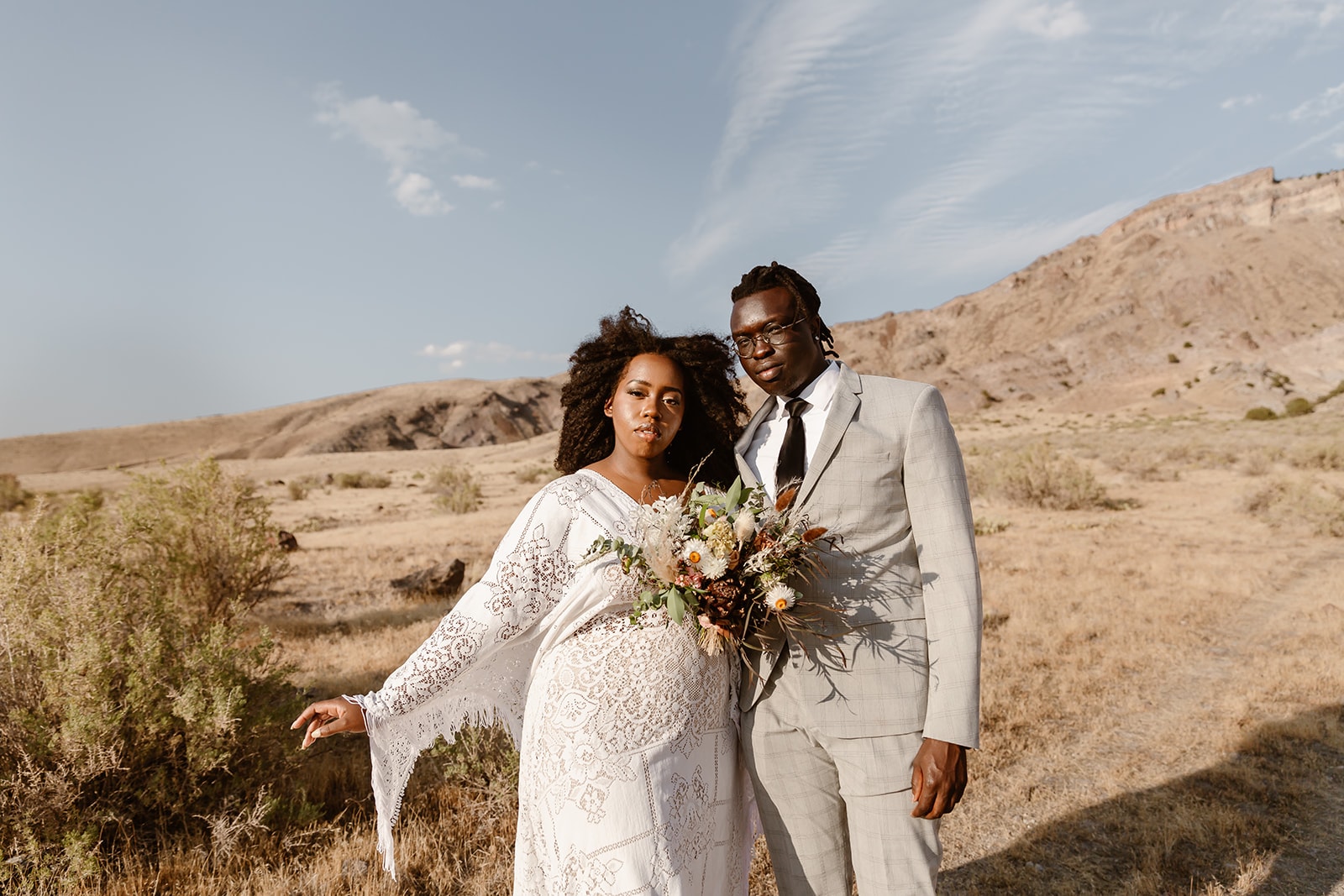 Jacalone Photography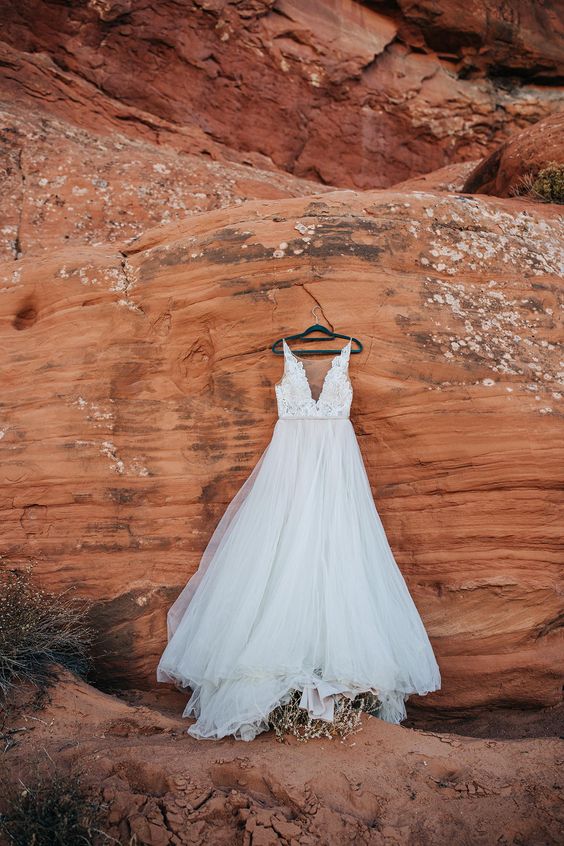 (Photographer Unknown)
3. Bonneville Salt Flats, Utah
This ethereal elopement destination is a sci-fi dreamscape. The salt terrain is a remnant of the Ice Age era and unlike anywhere else. The contrast of the white salt, blue sky, and distant mountains create a breathtaking backdrop. The flats are so peaceful, making them a perfect elopement destination for couples wanting an intimate ceremony. The sunrise and sunset create the dreamiest pastel glow. I love the flats because with the plain white background any florals or decor really stand out so the possibilities are endless and you can really make it your own. Very main character energy.
The location is the definition of off the beaten path, and never too crowded with tourists. The drive is well worth it, although there aren't too many places to stay nearby so opt for booking an airbnb in Salt Lake City. There is one airbnb nearby called "Above the Flats" which is a 5 bedroom luxury modern home that would easily provide enough space for an intimate elopement.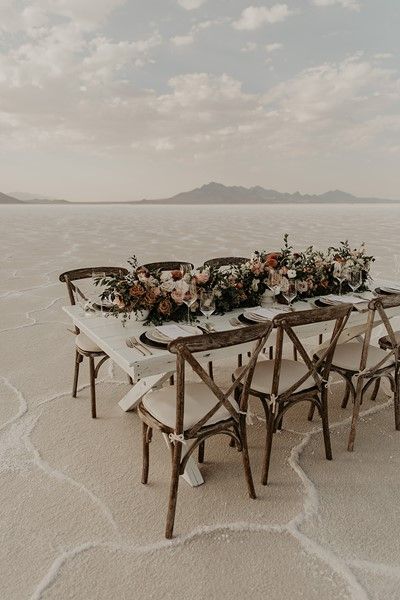 (Photographer Unknown)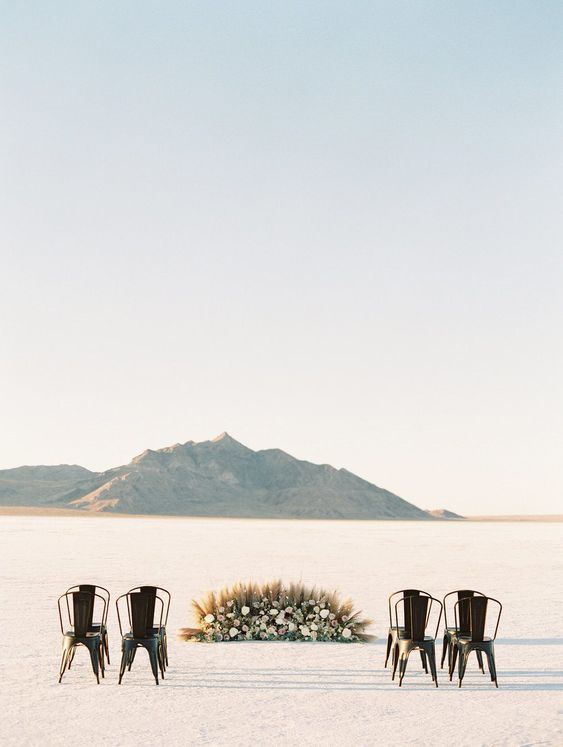 (Photographer Unknown)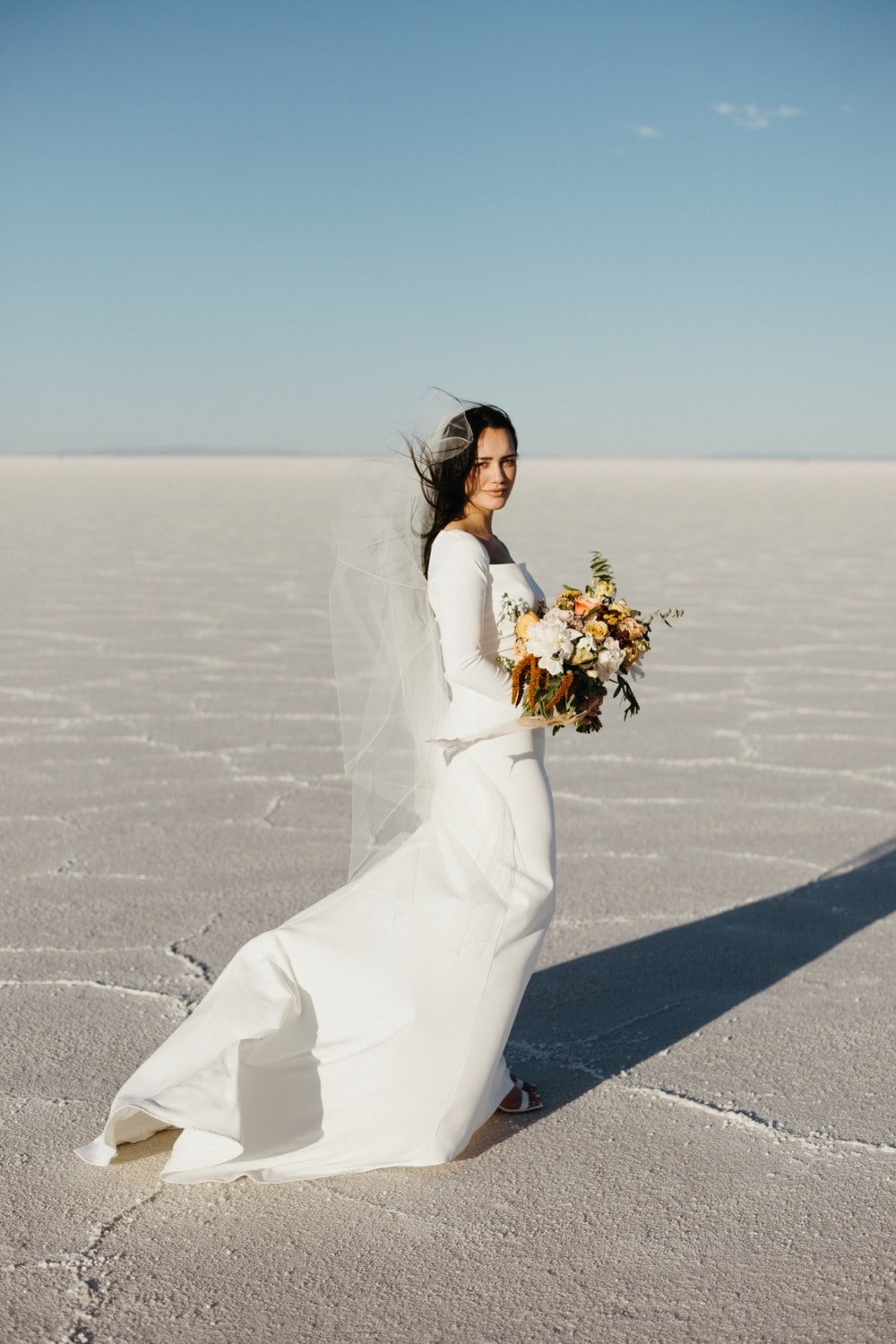 Alixann Loosle Photography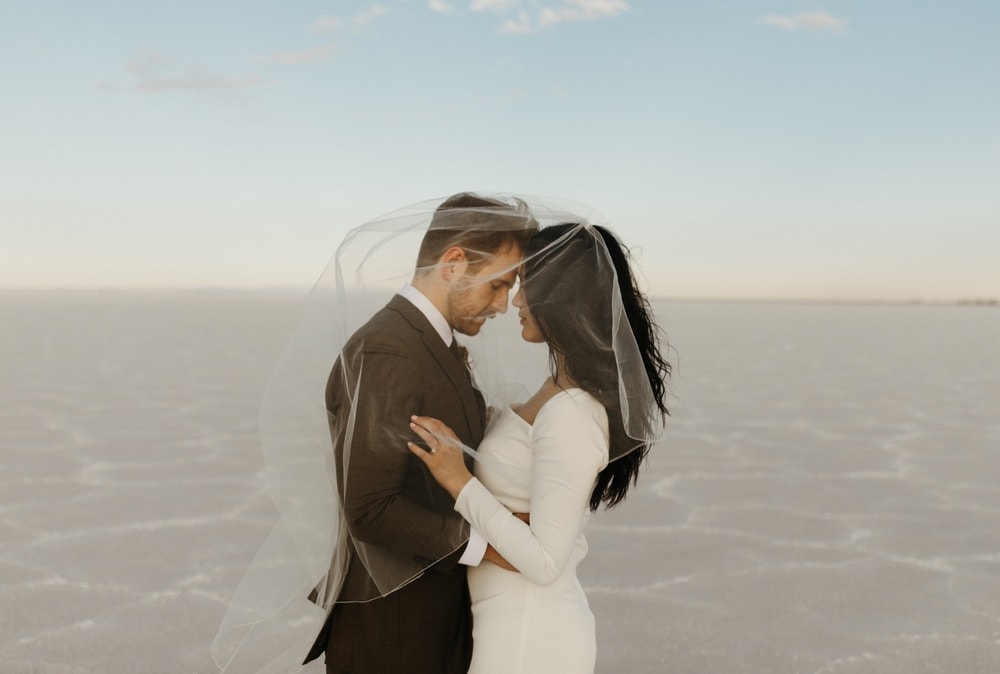 Alixann Loosle Photography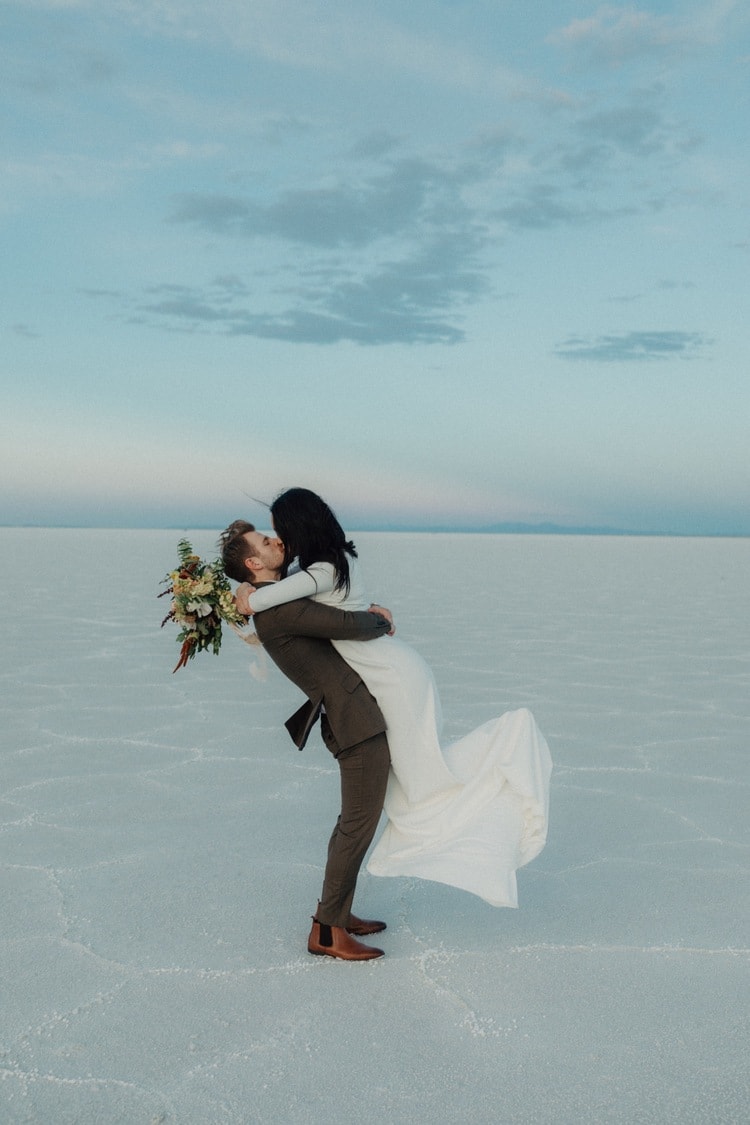 Alixann Loosle Photography